If you're a beginner looking to get started with your digital planning journey, then you've come to the right place. We understand how overwhelming it can be from choosing a device, to selecting the right digital planning app, to figuring out how to import, annotate, and customize! We'll try to make this as easy and simple as possible; and hopefully by the end of this post, you'll be ready to purchase & customize your very first digital planner!
Warning: digital planning can be quite addictive. Use with caution!
Before we dive deep into the nitty gritty, we'll answer some of your main questions first…trust us, we've been there, done that!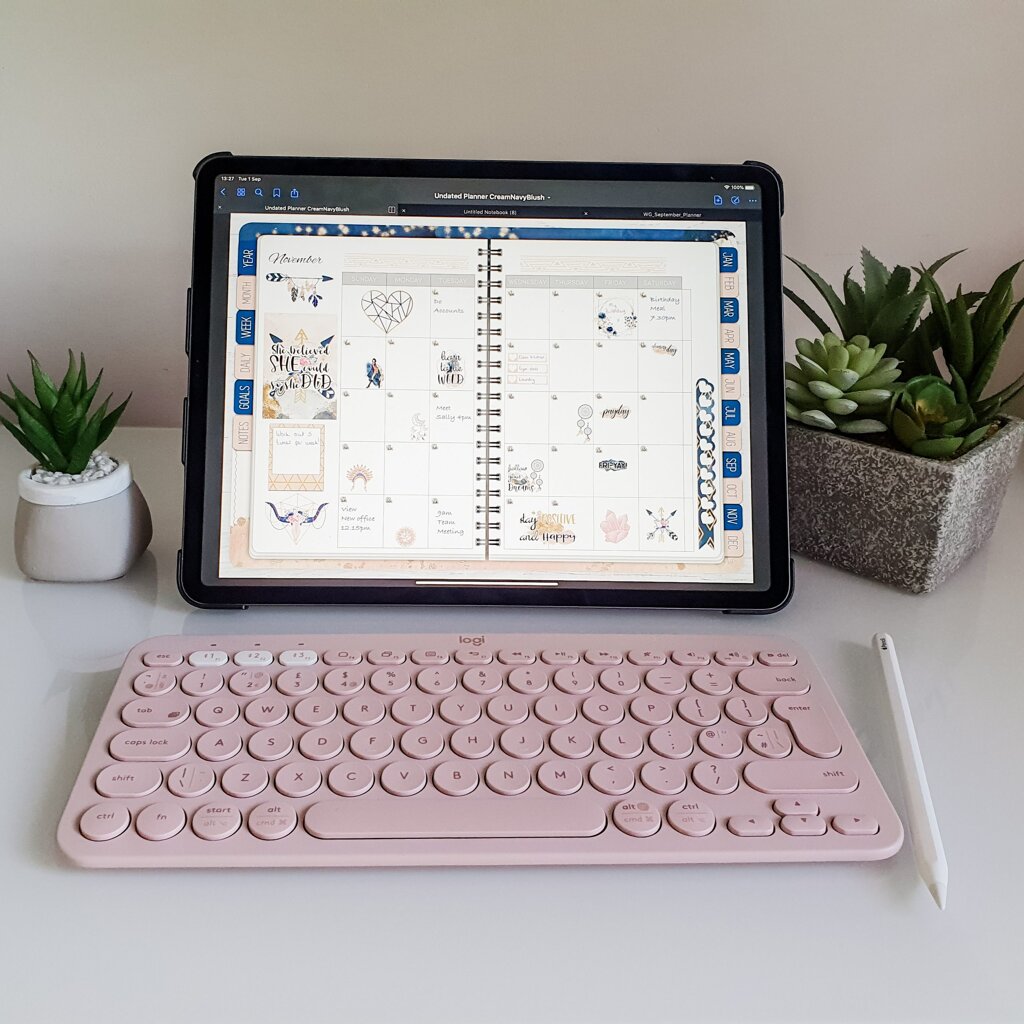 What is a Digital Planner?
Digital planners are like the twin siblings of a paper planner—only, yes you guessed it—it's digital. They come in a PDF format (Portable Document Format), which you need to download and import into your device and open in a PDF annotator app so you can annotate/write on it.
Digital planners can also be created, and are perfect for creatives out there. But this article will focus more on purchased digital planners which you can customize, mix & and match, and annotate.
Since digital planners are a replacement to the traditional paper planner, these won't sync to online apps like Google Calendar, iCal, or Outlook. Think of it like a paper planner that was converted into a digital, weight-free product that you can carry around through your iPad, Tablet, phone, or laptop.
What makes digital planning different from paper planning?
Digital planning is basically just the digital version of paper planning/journaling—but better.
Why?
For starters, you can say goodbye to endless errors and white out. The beauty about digital planning is you can easily "undo" and erase actions and elements if you make a mistake. It's a mess-free way of planning!
Another perk of digital planning is you can store several planners in your device, minus the weight. If you're the type who has several planners for everything, then digital planning might just be your savior. Have a planner for family planning? Business? Or for personal use? You can have all 3, without carrying 3 separate heavy books for everything!
You help save the planet. Since you've switched to (or are thinking about it) paperless planning, you don't need to throw away used planners anymore. Digital planners are reusable over and over again (unless it's dated, of course)… so you can even have 1 planner for life if you choose to.
It's amazingly customizable. Want more stickers? Want to mix and match different planners? Want to create your own ultimate planner? All you have to do is import, copy, and paste stickers and inserts if you want to build your planner.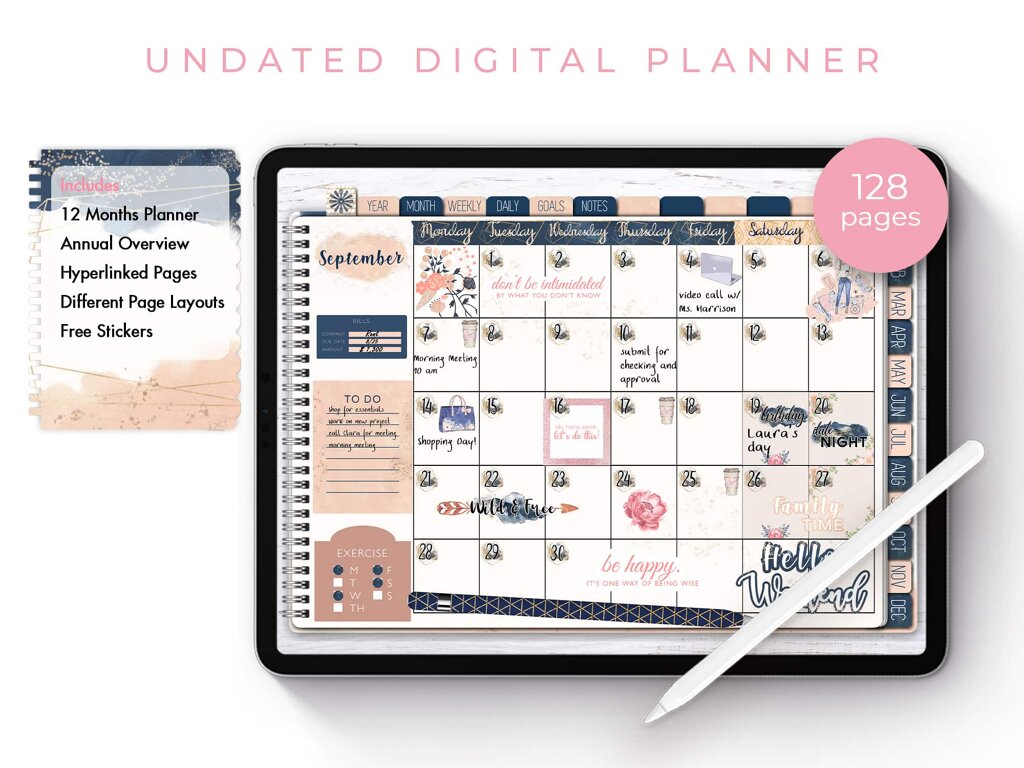 Can you digital plan using your phone or Laptop?
Yes, although, using your phone would be a bit harder than using a laptop or your tablet, due to its size. But with apps like Xodo or Goodnotes, you can simply download and install them on all your devices and sync to Cloud if you want to sync your planners in all your devices.
Why do I need GoodNotes or Xodo?
Digital planners are much like paper planners, only electronic. So for you to "write" on your planners, you'd need a planning app or a PDF annotator app so you can also "write" on and customize your planners.
Do I really need an Apple pencil for digital planning?
An Apple Pencil or any digital stylus is a nice-to-have, especially if you want to mimic paper planning; however, you can still plan digitally by using your app's text feature if you need to insert any text.
Step 1: What devices or gadgets do you currently have?
Before you think about burning all that cash for a new iPad or Tablet, look at what you currently have, as you might actually get to use it!
Smartphones are okay, provided you have a bigger screen to work with. If you're looking to write on a digital planner the same way you'd do on your paper planner, then a tablet or an iPad will be best for you.
iPads are our current favorite, while Android and Windows users can still use their tablets. Make sure your device also has enough space so you can download what we'll be talking about in Step 2.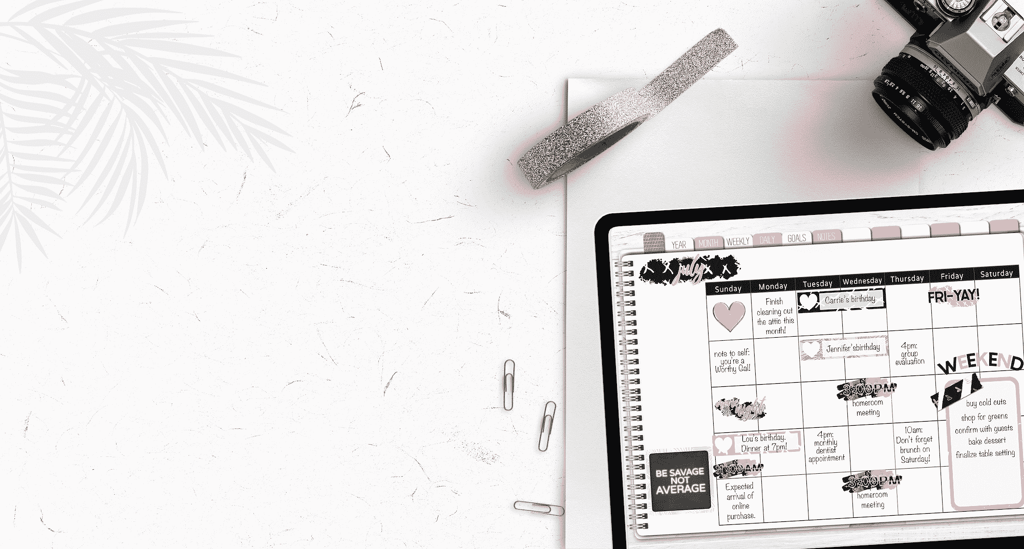 You might also be wondering if it's a must to have a stylus or Apple Pencil. We say it's a nice to have, since it makes the writing experience similar to paper planning; however, if you don't have one, or if your iPad isn't compatible with an Apple Pencil—don't fret. PDF annotator apps have a Text Tool available so you can input your text without a stylus. Generic pencils can also be sourced from Amazon if you really want to buy one!
Lastly, don't forget your laptops or desktop computers! You can still use digital planners with them, provided you have a PDF annotator or planning app that you can download.
Step 2: Selecting a PDF annotator or planning app
One question we get asked the most is: "does this work on iOS and Android"?
When selecting a planning app, your device's operating system matters. iOS users will benefit a lot with GoodNotes 5 (this is a separate, one-time purchase which you can find in the App Store, $7.99), while Xodo (FREE) is our top pick for Android or Windows users. Some planners can work with other apps such as Notability ($9.99), Zoomnotes ($7.99), and Noteshelf ($6.99), however for Worthy Gal planners in particular, the first 2 we've mentioned are our best bet.
It's also best to look at the app's compatibility with your device. GoodNotes in particular only works on iOS devices running on 12.0 and up. Prepping to get your planning app takes a bit of time, but doing the research is definitely worth it and will set you up for success.
Step 3: Choosing your digital planner
If you're looking for pre-made, PDF planners to use with your planning app, then we can definitely help! There are several versions you can select from:
Portrait
Landscape
Landscape split (these are the horizontal planners that show the binder/notebook spiral in the middle)
Bullet Journal
Dated
Undated
PORTRAIT – these are planners in a vertical orientation. Portrait planners provide ample space for writing and can include tabs both up top and on the side, depending on the planners you download.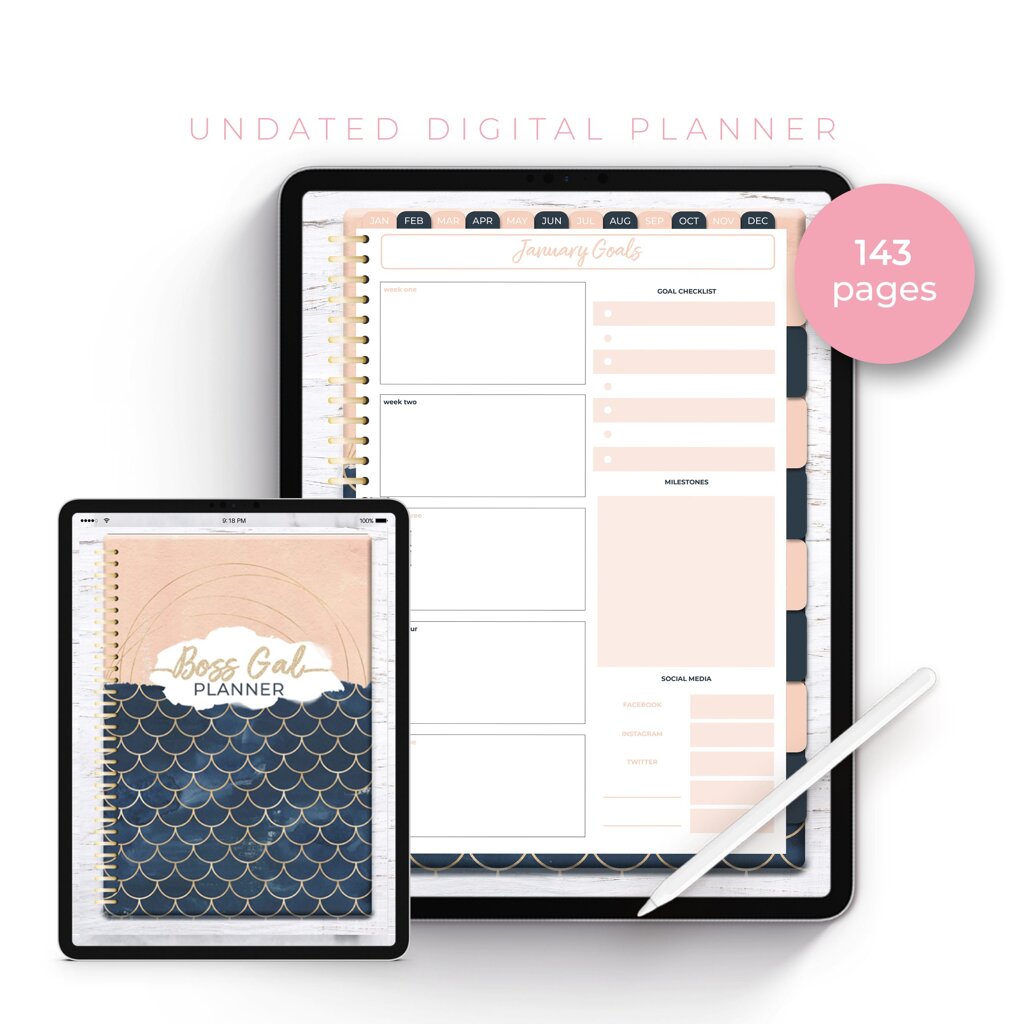 LANDSCAPE – if you're looking for more writing space, then these horizontal planners might be a better fit for you.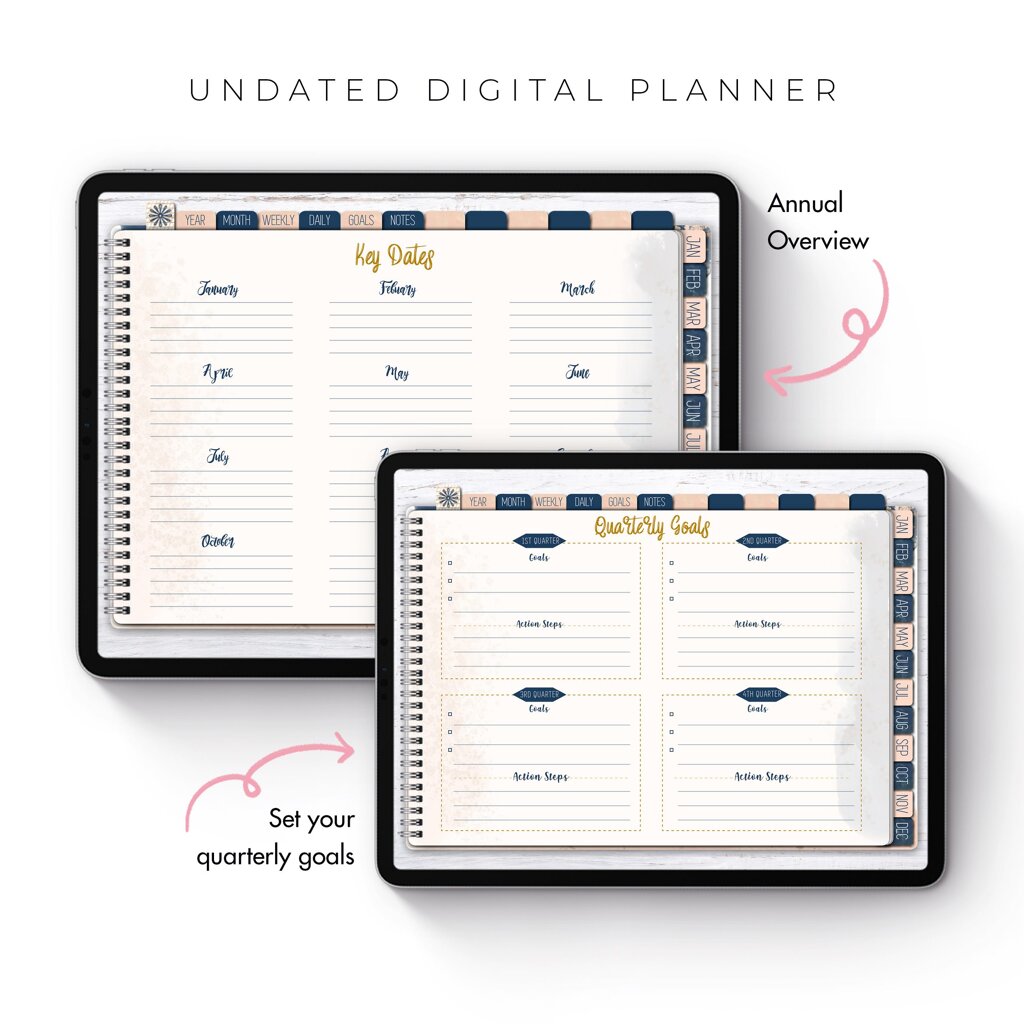 LANDSCAPE SPLIT – we find that split-type landscape planners are best for the paper planner lovers who recently switched over to digital. It mimics exactly how a paper planner looks like, and we gotta admit, it looks pretty nifty!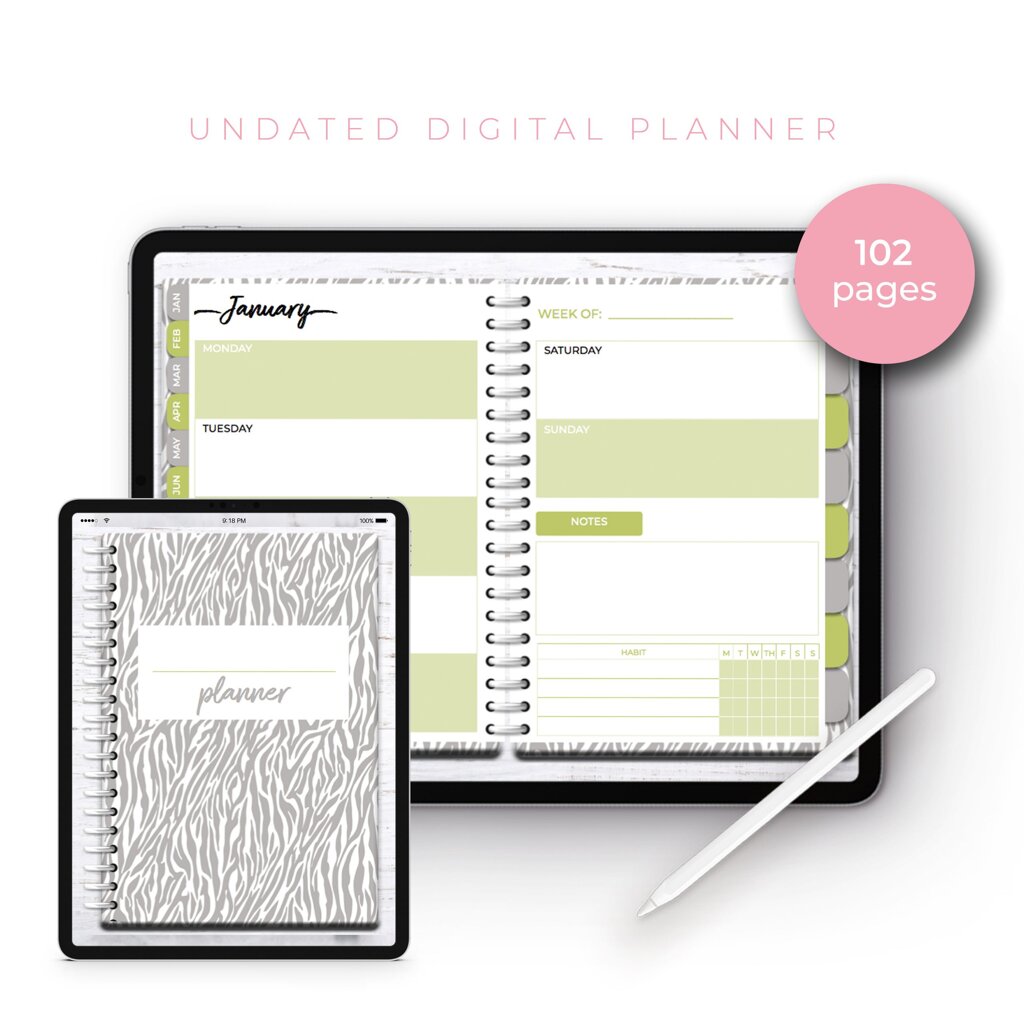 BULLET JOURNAL – another paper planner turned digital planner fave! If you're the type who's a fan of traditional BuJo, and listing down things free-hand, then this is perfect for you.
DATED – very straightforward, these are dated planners so you don't have to input the dates manually. Saves you time + effort when planning. Just a note: these are naturally not reusable, since each year, dates usually fall on different days.
UNDATED – if you're looking to use just 1 planner each year, then the undated option is perfect for you. You can keep reusing this, as all you need to do is import the same blank planner every time, and voila! Your forever planner is born.
Step 4: Getting familiar with digital planning terms
Knowing what these elements are will help you out in your digital planning journey! (trust us, you'll hear these a lot)
Inserts – these are "extra" pages you can insert in your planner. You know how you used to create budget trackers, finance planners, mood, and fitness trackers? Yep, these are the digital versions of those. Inserts are a GREAT way to maximize your planner's power and the amount of information you'd like to enter. Inserts are also a great way to determine what you'll be using your planner for. Say, you want a business-themed planner: you can add inserts like a finance planner and an appointment tracker.
Stickers – if you love to draw on your paper planner and add washi tapes and doodles, then stickers are the digital versions of those! These are usually pre-cropped in PNG format, so you can easily copy, paste, and duplicate them into your planner.
Lasso Tool (for GoodNotes users) – you'll probably see this term a lot. The Lasso Tool enables you to "lasso"/select/capture the specific element you want to transfer into your planner. Say you have a sticker sheet (a sheet with heaps of stickers, non-pre-cropped stickers) and you want to select a couple of stickers. Simply use the Lasso Tool and encircle the sticker you want, copy, then paste, and voila! Sticker is transferred.
Step 4: Start planning!
Are you ready? There are a lot of digital planning shops online, and you can easily find us on Etsy or Creative Market. Visit us on our Etsy Store or Website, and start selecting the best one that suits your style and preference! Once you've gotten used to it, you'll start downloading inserts (can link to a Digital Planning Insert blog post) and sticker bundles (link to a sticker bundle blog post) in no time… and trust us when we say, this can get really addicting when you get the hang of it!
Happy Planning!